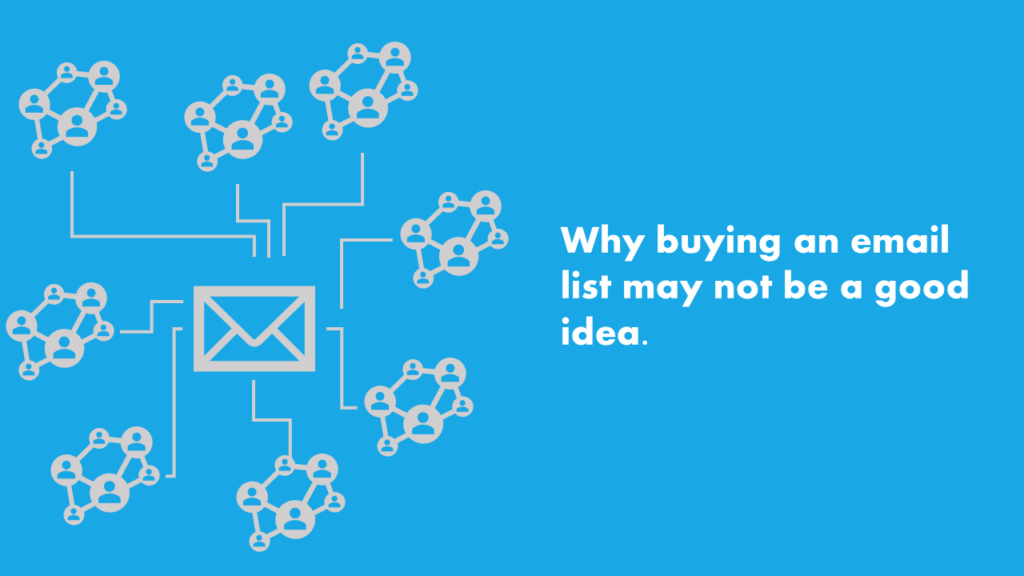 So you have decided to start email campaigns to improve or initiate your sales and the most obvious decision is to buy an email list and get going, right? Maybe not, we explain in this blog why it would not be a smart move to buy a list without considering these aspects.
Email has been one of the most popular channels to reach out to prospects for businesses and with this popularity came in a multitude of vendors who sell contact databases. If you do a simple google search for 'Buy Email Lists' you would get hundreds of vendors promising heaven and earth with their lists, but the results would be far away from the truth.
What's wrong with buying a list?
Everyone starting out with emailing would have pondered over taking the shortcut and buying a contacts database some time or the other. It does seem the easy way out and you just need to concentrate on the message right. Well the truth is, these prospects have not asked you to email them and they haven't opted in either.
How an email list bought of the market can probably hurt than help your marketing efforts
Here are four reasons that would help you validate if buying a list is a feasible option for you.
1. Not Legal
It is not legal in many countries to store data about a user/person without their consent and is definitely not legal or ethical to email a person without them opting-in to your emails. There are a number of regulations around sending marketing emails in different parts of the world with different severity; CAN-SPAM, CASL, GDPR etc. So breaching the rules set within these regulations can attract severe penalties, and can even result in you being banned from selling into an area or country in some cases.
2. Damage to Reputation
Since the receiver has not opted-in and is not expecting your email, can perceive you as a spammer and become totally averse to your brand and probably mark your emails as spam. This can result in your future campaigns going down the drain especially if you get into anti-spam blacklists or the ESP's flag your domain IP's
3. Deliverability
They say over 30% of business emails cease to exist under a year because of people changing jobs. So obviously a list that is not updated and cleaned very frequently will result in a high bounce rate if used for email campaigns. When buying an email list, it may not simply be feasible to validate every single email in the list and you would end up taking a big risk with it.
4. Commercial Feasibility
Email lists come in all sizes and at a variety of price points, but there are many other aspects that would determine the commercial feasibility of a campaign using such a list. Due to inaccurate emails and the contacts not having previously exchanged emails with you, you might experience open levels even under 3% which might lower the chances of extracting reasonable ROI. Obviously, the ROI does depend on the average ticket size and the nature of your services or products, so you can figure out the math.
What is really the ideal way to get an email list then?
There really isn't a shortcut here, the ideal way is to slowly and gradually creating your own list. One thing every marketer would agree on is, to offer quality content to readers. Now this could be through blogs or content that anyone can download by providing their email address. This means you can start sending them relevant content based on the nature of the content they downloaded. And you guessed it right, this is not a short-term process but takes time to perfect and really prime the prospect to buy from you. Good content can really work wonders for you, once a visitor on your website sees that you offer quality, they would want to sign-up for insights from you.
Here again you have to be careful that your list is not full of fake emails or disposable emails etc. which again might result in high bounce rates. It is ideal that you employ a Real Time Email Validation API with the form to ensure only real prospects get into your list.
Just to summarize.
Buying a list is not the ideal method and it can cause both short term and long-term damages to your reputation as well as commercially. The ideal approach is to organically grow your email database by offering digital goodies that would be valuable to your website visitor. Take care to use an email validation service to ensure only serious and real prospects enter your contacts database
Related Posts
In today's digital age, individuals and businesses rely on email as an essential communication tool. However, email scams and frauds have become more prevalent. These fraudulent activities can cause significant financial damage and loss of…
Email validation is a crucial process for businesses to ensure that the email addresses they collect and use over time are accurate, valid, and reliable throughout their email marketing and branding activities. While most organisations…
Latest Post
Categories
Subscribe to Our Blog
I want the latest update in...