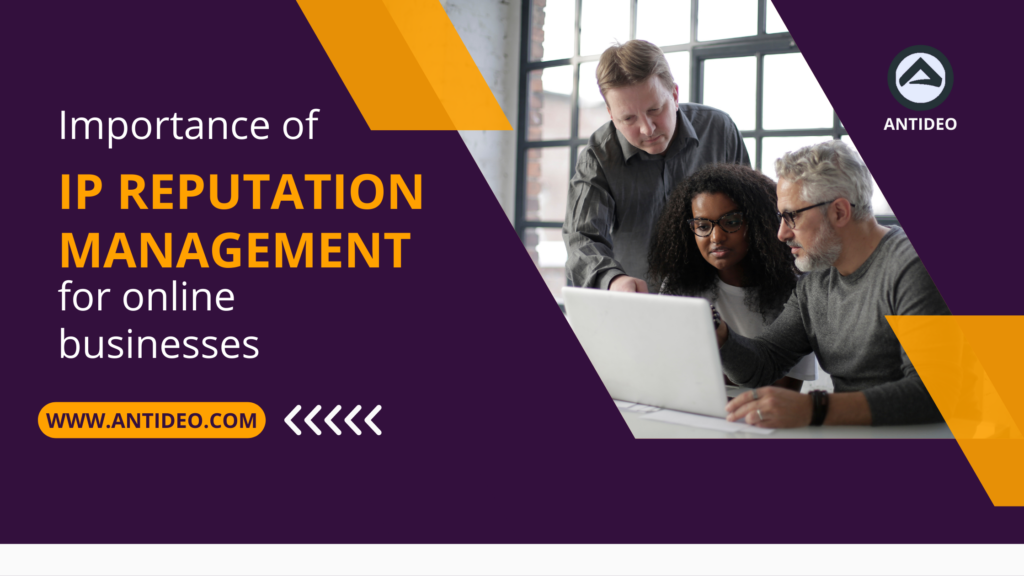 In the digital world, where online businesses thrive, establishing and maintaining a positive reputation is crucial for sustained success. One aspect that often goes unnoticed but holds significant importance is IP reputation management. As businesses rely on IP addresses for various online activities, managing their reputation becomes vital to protect against potential risks and build trust with customers and partners. In this blog, we will delve into the significance of IP reputation management for online businesses and explore strategies to ensure a favorable digital presence.
Understanding IP Reputation:
IP reputation refers to the evaluation of an IP address's history and behavior to determine its trustworthiness.
Maintaining Deliverability:
A good IP reputation helps ensure that emails, newsletters, and other communications reach the intended recipients' inboxes.
Protecting against Blacklisting:
Maintaining a positive IP reputation reduces the risk of being blacklisted by email service providers and security systems.
Spam Filtering:
A reputable IP address improves the chances of emails bypassing spam filters and reaching the recipients' primary inbox.
Building Trust with Customers:
A strong IP reputation enhances customers' trust in the legitimacy and reliability of an online business.
Protecting Brand Reputation:
A negative IP reputation can harm a brand's image and reputation, leading to decreased customer confidence and loyalty.
Avoiding Financial Losses:
IP reputation management helps businesses avoid financial losses associated with blocked communications and damaged brand reputation.
Preventing Fraudulent Activities:
Maintaining a positive IP reputation minimizes the risk of being associated with fraudulent activities and phishing attempts.
Enhanced Email Deliverability:
A reputable IP address increases the chances of email delivery and engagement, boosting marketing and customer communication efforts.
Improving Search Engine Rankings:
A positive IP reputation can indirectly impact search engine rankings, as search algorithms consider reputation factors.
Proactive Risk Mitigation:
IP reputation management allows businesses to proactively identify and address potential risks before they escalate.
Monitoring IP Reputation:
Regular monitoring of IP reputation helps businesses stay informed about their online presence and potential issues.
Investigating Issues:
When facing deliverability or reputation problems, businesses can investigate and resolve issues by monitoring IP reputation.
Complying with Regulations:
Maintaining a good IP reputation ensures compliance with regulations related to email communications and data protection.
Engaging with ISPs and ESPs:
Positive IP reputation facilitates better communication and collaboration with Internet Service Providers (ISPs) and Email Service Providers (ESPs).
IP Warm-up:
For new IP addresses, reputation management involves a gradual warm-up process to establish credibility and trustworthiness.
Monitoring Server Security:
Maintaining a strong IP reputation involves monitoring server security to prevent unauthorized access and potential misuse.
Managing IP Address Rotation:
Effective IP reputation management includes managing IP address rotation to distribute reputation impact and maintain deliverability.
Implementing Authentication Protocols:
Utilizing email authentication protocols like SPF, DKIM, and DMARC helps maintain a positive IP reputation.
Conclusion
IP reputation management plays a vital role in ensuring the success and longevity of online businesses. By proactively monitoring, protecting, and maintaining a positive IP reputation, businesses can safeguard trust, enhance brand reputation, and mitigate potential risks. With a focus on deliverability, compliance, and customer engagement, businesses can cultivate a strong digital presence that drives growth, fosters customer loyalty, and solidifies their position in the competitive online landscape.
Related Posts
In today's interconnected world, where digital transactions and online activities have become the norm, fraudsters are constantly devising new ways to exploit vulnerabilities and deceive unsuspecting victims. As the battle against fraud intensifies, technology has…
Introduction In today's digital landscape, businesses increasingly face challenges in verifying customer identities and ensuring secure transactions. Manual identity verification processes consume time, prone to errors, and compromise customer experience. Antideo's API integration optimizes identity…
Categories
Subscribe to Our Blog
I want the latest update in...