Phone Number Validation API for Invalid Phone Numbers

Run a wide range of both national and international numbers worldwide through our Phone Validation API. Use it with landline, mobile, toll free, VoIP etc. For example today a valid mobile number is required within the registration process in some platforms, then SMS is sent and user have to type it in to complete its registration. Allowing invalid numbers can increase the number of bogus users, abandonment of registration and it will cost more to send SMS to invalid numbers that won't be delivered. At very least using Antideo Phone Validation API will help differentiate between mobile, landline and other types of phone numbers. You can also try our Free Phone Number Validation API to test out the service for accuracy.
Create an account. No Credit Card necessary
Validate Numbers
Easily look up the country & validate the phone number of your prospects
Usage Stats
A very user friendly dashboard to keep track of your subscription
Encrypted API
The Phone Validation API connection is served over a secure and encrypted HTTPS connection
Pocket Friendly
Our pricing is among the lowest considering the capabilities the API offers
Tech Support
Get access to a very responsive and customer friendly support help-desk
Documentation
The Real Phone Validation API's are well documented and made publicly available
Real Phone Validation & Lookup JSON REST API
Our affordable yet powerful phone number validation & lookup API is helping businesses across the globe like yours in ensure no time or money is lost on fake phone numbers

Antideo's Phone Validation API is easy to integrate JSON REST APIs where you make a request using a URL structure and results are sent back in an easy to process JSON format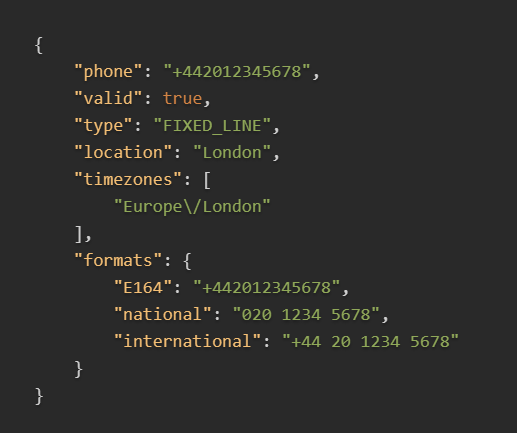 Frequently Asked Questions
Check out our all inclusive API comprising of Real Phone Validation, IP and Email Reputation Detection!