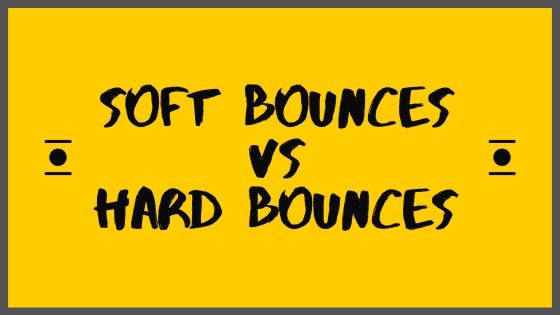 An email is said to have bounced when it is undelivered to the recipient email address, which could be because of a number of reasons. There are distinct types of bounces classified on the basis of the reason for the bounce. They can be broadly classified into soft and hard bounces. Most of the emailing software systems would provide you marketing reports giving you insights into the bounces. The bounce rate has to be kept at the back of your mind to ensure the quality of the list.
Soft Bounces and Hard Bounces Explained.
What do you mean by Hard Bounce?
Like the name sounds this is a much serious issue compared to a soft bounce. Essentially it is a permanent case of not being able to deliver the email to the said email address. In simpler terms, it becomes a hard bounce when an email is returned, the email address being invalid or non existent.
A hard bounce is when an email is returned to the sender because the recipient email address does not exist.
Most of the email marketing software systems available out there track bounces after sending out the email campaign. Then separate the hard bounces from the main list to avoid sending further emails to them. Obviously this happens only after the first email goes out and depending on the volume of hard bounces the damage might already be done post the first campaign. There are quite a few reasons leading to a hard bounce but we have listed below the most common ones of the lot.
Non existent email address.
Non existent domain.
Delivery blocked by the email server of the recipient
What do you mean by Soft Bounce?
A soft bounce is a temporary delivery issue to an email address and the reasons behind soft bounces are usually solvable. Again the soft bounces are treated very differently compared to hard bounces. And also the effects on your sender reputation is different.
Soft bounces is usually a temporary problem of email delivery and generally has a solvable reason.
Soft bounces are tracked similar to hard bounces by modern email marketing software systems. But unlike hard bounces, instead of moving them out of the list, a couple of attempts are made to deliver the email and subsequently classified as a hard bounce if the attempts fail repeatedly. There again are a number of reasons behind soft bounces but we have listed out the most common ones
Full Mailbox.
Issues with the recipient's mail server.
Email or attachment exceeds the size limits of the recipient's mail server.
How can Antideo prevent Hard Bounces?
One of the primary reasons for a hard bounce is a non existent email address. And one of the reasons for a non existent email address is a disposable email address. Now since the temporary email address functions like a normal email address when it is active, it becomes very difficult for the email marketing software to detect a disposable email address as the emails get delivered as long as the email address is live (usually for 10 to 20 minutes). So it becomes vital to filter out the throwaway email addresses right at the source of entry. Antideo keeps an extensive database of disposable email providers that is kept up-to-date using automated scripts, to help you detect temporary emails in real time.
Apart from validating emails, Antideo also offers ipinfo and phone validation within the same API. The Antideo API is known to help our customers ensure they build a high quality subscriber list in the first place.
Related Posts
In today's digital age, individuals and businesses rely on email as an essential communication tool. However, email scams and frauds have become more prevalent. These fraudulent activities can cause significant financial damage and loss of…
Email validation is a crucial process for businesses to ensure that the email addresses they collect and use over time are accurate, valid, and reliable throughout their email marketing and branding activities. While most organisations…
Latest Post
Categories
Subscribe to Our Blog
I want the latest update in...