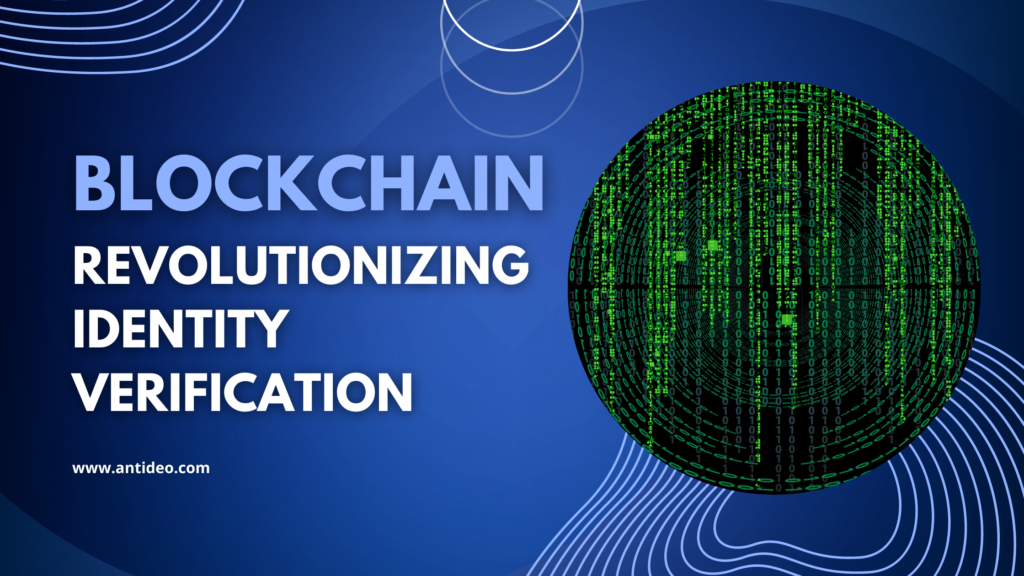 In today's digital landscape, establishing trust and ensuring the security of personal information have become paramount. Traditional methods of identity verification often rely on centralized databases, making them vulnerable to breaches and manipulation. However, with the emergence of blockchain technology, a revolutionary shift is taking place in the realm of identity verification. In this blog, we will explore how blockchain is transforming the process of identity verification and revolutionizing the way we establish trust in the digital age.
The Power of Blockchain:
Blockchain is a decentralized and immutable ledger that enables secure and transparent transactions.
Self-Sovereign Identity:
Blockchain empowers individuals with self-sovereign identity, giving them control over their personal information.
Decentralization and Trust:
Blockchain eliminates the need for intermediaries, enabling peer-to-peer verification and reducing reliance on centralized authorities.
Immutable and Transparent Records:
The nature of blockchain ensures that all identity verification transactions are recorded in an unalterable and transparent manner.
Enhanced Security:
Blockchain utilizes advanced cryptographic techniques to safeguard personal data, making it highly resistant to hacking and fraud.
Eliminating Identity Theft:
By decentralizing and encrypting personal information, blockchain significantly reduces the risk of identity theft and fraud.
Interoperability and Efficiency:
Blockchain allows for seamless sharing of verified identity information across multiple platforms and organizations.
Simplifying KYC Processes:
Know Your Customer (KYC) processes can be streamlined and made more efficient with blockchain-based identity verification.
Privacy and Data Control:
Blockchain enables individuals to share only necessary identity information, preserving their privacy and granting them greater control.
Verified Credentials:
Blockchain can securely store verified credentials, such as academic degrees and professional certifications, eliminating the need for cumbersome document verification.
Trust in Digital Transactions:
Blockchain-based identity verification builds trust in digital transactions by ensuring the authenticity and integrity of the parties involved.
Cross-Industry Applications:
The impact of blockchain on identity verification extends beyond financial services, with applications in healthcare, supply chain management, and more.
Healthcare: Securing Patient Data:
Blockchain enhances security and privacy in healthcare by securely storing and sharing patient health records and personal information.
Supply Chain Management:
Blockchain ensures the authenticity and traceability of products by verifying the identities of participants along the supply chain.
Voting Systems:
Blockchain-based identity verification can revolutionize voting systems, enabling secure and transparent digital voting processes.
Expanding Financial Inclusion:
Blockchain offers identity verification solutions for individuals without traditional forms of identification, enabling financial inclusion for the unbanked population.
Collaboration and Standards:
Industry-wide collaboration and standardization efforts are underway to ensure interoperability and best practices in blockchain-based identity verification.
Regulatory Compliance:
Blockchain-based identity verification helps organizations comply with data protection and privacy regulations, such as the GDPR.
Future Possibilities:
As blockchain technology evolves, innovative solutions like zero-knowledge proofs and decentralized identifiers hold promise for even more secure and efficient identity verification.
Conclusion
Blockchain technology is revolutionizing identity verification by offering a decentralized, secure, and transparent solution that enhances trust in the digital age. From self-sovereign identity to simplified KYC processes and cross-industry applications, blockchain is reshaping the way we establish and verify identities. As this transformative technology continues to advance and gain widespread adoption, the future holds exciting possibilities for secure and trustworthy digital interactions, ultimately empowering individuals and organizations with greater control and peace of mind.
Related Posts
In an era dominated by social media, the way we verify identities has undergone a significant transformation. The traditional methods of identity verification, such as presenting physical documents or relying on personal knowledge, are gradually…
Categories
Subscribe to Our Blog
I want the latest update in...