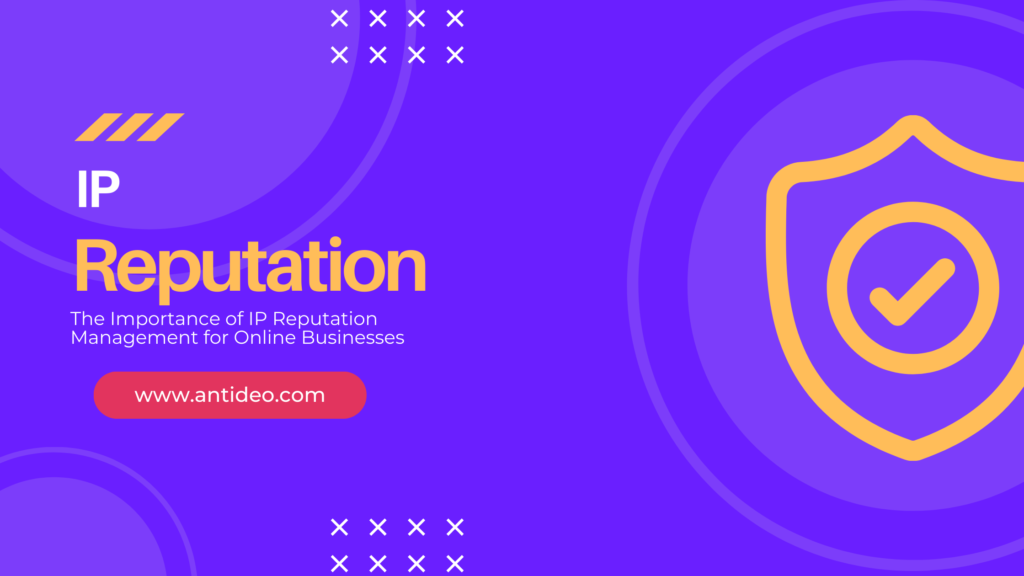 In today's digital world, online businesses rely heavily on connectivity, so maintaining a good online reputation is a very important factor. One aspect that plays a significant role in this regard is the IP reputation. By effectively managing the reputation of one's IP addresses, businesses can ensure smooth operations, safeguard their brand image, and enhance their online security. In this blog post, we will explore the importance of IP reputation management for online businesses and explore the strategies businesses can employ to maintain a favourable IP reputation. Let's dive in!
Understanding IP Reputation
Before we discuss the importance of IP reputation management, it's essential to understand what IP reputation means and what all contribute to the same. An IP address is a unique identifier assigned to each device connected to the internet. IP reputation refers to the evaluation of an IP address's history, previous and current behaviour, and trustworthiness based on its engagement in various online activities. Internet Service Providers (ISPs) and anti-abuse organisations assign reputation scores to IP addresses and maintain a number of publicly accessible blacklists, which can greatly impact an online business's operations.
Enhancing Email Deliverability and Sender Reputation
Email communication is still a fundamental component of online business operations as well as marketing and branding activities for businesses. By maintaining a good IP reputation, businesses can ensure their emails reach their intended recipients' inboxes instead of being flagged as spam and ending up in the spam folder, or even worse get blocked by the ESPs. We will explore the significance of IP reputation in email deliverability and provide tips on improving sender reputation through proper IP reputation management.
Safeguarding Against Fraud and Cyber Threats
In the digital age, businesses face the constant threat of fraud and cyberattacks. An IP address with a poor reputation may be associated with malicious activities such as hacking, phishing, scamming or spamming. By actively monitoring and managing IP reputation, businesses can reduce the risk of falling victim to cyber threats and protect their customers' data and sensitive information.
Enhancing Online Advertising Effectiveness
For businesses engaged in online advertising, maintaining a positive IP reputation is crucial for campaign effectiveness. Ad networks and platforms often use IP reputation as a factor in determining whether to display ads and how to prioritize them. We will explore how IP reputation management can improve ad visibility, reduce costs, and maximize return on investment (ROI) for online advertising campaigns.
Mitigating IP Blacklisting and Reputation Damage
Being added to an IP blacklist can have severe consequences for an online business. It can result in reduced email deliverability, blocked website access, and tarnished brand reputation. We will discuss the steps businesses can take to monitor their IP reputation, prevent blacklisting, and mitigate any damage caused by negative IP reputation.
Conclusion
Maintaining a positive IP reputation is vital for the success and security of online businesses. By actively managing and monitoring their IP reputation, businesses can enhance email deliverability, protect against fraud and cyber threats, improve advertising effectiveness, and mitigate damage to reputation. Implementing robust IP reputation management strategies, such as regularly monitoring IP addresses, employing strong security measures, and adhering to best practices,
Related Posts
In today's interconnected world, businesses face constant concerns about cyber threats. Cybercriminals employ various tactics to conceal their identity and location, making it increasingly challenging to track and prevent attacks. Proxy detection has emerged as…
With the rise of online transactions and shopping, online fraud has become a significant headache for businesses and shoppers alike. One way to defend against fraud is using geolocation data, data that identifies the location…
Latest Post
Categories
Subscribe to Our Blog
I want the latest update in...