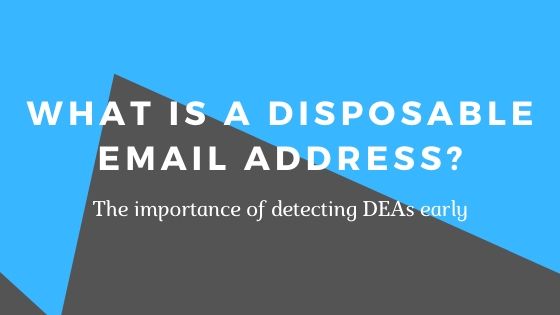 A disposable email address is a real concern. Like we have covered in some of our other posts, email marketing is still a very viable and powerful channel for customer acquisition as well as retention. But obviously any email campaign would be only as good as the quality of the email list it banks on. So it is of utmost importance that you ensure that you only accept good emails into your email marketing lists right at the source.
But having said that, maintaining a high quality email list is not a one time deal but is rather an endless activity to ensure that the records get updated in frequent intervals. So at the time of asking your website visitors to provide their email address to download a digital asset, there might be a number of visitors who might jump in. But here you have to have a mechanism to first ensure that they provide a valid email address and secondly not a temporary email address or a disposable email address .
To be honest, an alarming number of web users now prefer to use a disposable e-mail address (DEA) than use their real ones as they just do not want to receive spam or are not comfortable sharing their actual email address.
So now, What really is a disposable email address?
They are known by different names; DEA, or disposable email address or temporary email address or throwaway email address. But they are one and the same from a purpose perspective, as the different names suggest these are throwaway email addresses that have a very short lifespan; like 10 minutes and post that they cease to exist
There are a number of disposable emails providers out there, where you can very quickly and easily generate a temporary email address that can be used for testing a service, downloading a digital asset or unlock anything that needs an email address to access. The throwaway email address vendor provides you with a temporary mailbox to receive emails. There are literally over 500 throwaway email vendors, but we have put below an updated list of the popular disposable email or temporary email vendors that you can use off the bat without any registration –
Have a look at the full list of DEA vendors
Obviously these function as a real email address as long as they are live and hence the email addresses can be used to receive verification links or download links. But once the temporary email expires, as a business you are left with a bucket of invalid or non-existent emails.
Read why it is important to validate emails
Does DEA's affect my email campaigns?
To start with, your email campaigns would fail to fire, as you would have a list bloated with invalid emails resulting from throwaway emails. Which essentially means that resources get utilized but you would not see any sizable ROI.
Putting aside the obvious monetary effects because of such bad quality lists, let see how it affects you in the long run.
Depending on the volume of DEAs in your list your sender score would be affected in varying degrees
If the bounce rate is high then your campaign itself may get blocked
The bounce rates would affect your sender IP and the domain, which might become reason to be black listed.
Your sender score going down might mean your future campaigns simply end up on the recipient's spam folder, negatively affecting your open rates.
Having disposable emails on your list demonstrate inferior quality and perceived lower value. The industry came up with the sender score etc to protect users from spam and unsolicited emails, the lower your score the lower are the chances of your email landing in the inbox of the recipient. Maintaining a high quality list would mean your reputation as a sender stays intact and the your email campaign get a better shot at being successful.
How can you prevent users from signing up with a temporary email address?
Obviously by now you understand the importance of detecting disposable emails and the long term damage they can do to your sender reputation. Well if you are good with programming then you could maintain a list of DEA vendors and write a script to validate emails against this list to prevent users from signing up with a disposable email address. Obviously this would also mean that you keep track of these vendors and any new ones that might pop up, adding to the housekeeping overhead.
There is an easier option, Antideo
You could integrate Antideo API into your inquiry or sign up forms and validate the incoming emails against our database. We have script to monitor new disposable email providers and also have a very comprehensive list of existing vendors to ensure that you are able to weed out such users by using our email health check API. Obviously our API's not only validate emails for you but also does national and international phone number validation and IP health Check.
Antideo has prepared a database of thousands of disposable email address vendors over time and continuously keeps adding new temp email providers using scripts
The services by Antideo is delivered via API's that help you ensure the real time validation of emails, right when your prospect is filling up your form. The API is in JSON that means that it is compatible with a number of programming languages and gives you a lot of flexibility to use the API is different ways.
Excerpt of the Disposable Email Detection blog in a video
Related Posts
In today's digital age, individuals and businesses rely on email as an essential communication tool. However, email scams and frauds have become more prevalent. These fraudulent activities can cause significant financial damage and loss of…
Email validation is a crucial process for businesses to ensure that the email addresses they collect and use over time are accurate, valid, and reliable throughout their email marketing and branding activities. While most organisations…
Latest Post
Categories
Subscribe to Our Blog
I want the latest update in...