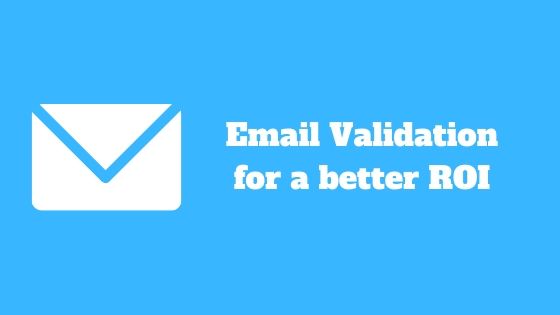 Email validation is a big concern right now as emails are still a very effective and popular medium of lead generation and account expansion when done right. Even though social media marketing has grown to be one of the most powerful medium over the last few years, email marketing still has a good foot hold within the marketing industry. In this post we discuss the importance of emails as a channel and more importantly getting the basics right.
3 7% of UK companies said email is the most important means of communication with the customer base.

Experience 2018
81% of SMB's still rely on email as their primary customer acquisition channel and 80% for retention

Emarsys 2018
Globally there are over 2.9 million live email accounts and close to 180 billion emails being sent out in a day, wow right..!!. Emails are clearly significant and apparently the largest mode of communication on earth and will very likely remain at the top for a good amount of time to come
Importance of Email Validation
There are a number of times that a person might accidentally enter a wrong email address or even intentionally enter a wrong email address. But either way you end up with a list where your emails might not get delivered at all. Now when you look at the cost incurred of an individual email not getting delivered, the loss might be insignificant. But when a good number of emails go undelivered it creates a ripple effect and your losses go beyond pure monetary costs.
Why should organizations really care about undelivered or non existent emails? Obviously there a load of reasons why anyone should be very conscious about the quality of their email lists. Cost is definitely one of them but there are other factors that might have a longer term negative effect on the business because of a high rate of undelivered emails.
Undelivered emails or email bounces can directly hamper your company's reputation as a sender which would ultimately mean that your future emails end up in the spam folder and your sending IP's/domain could get blacklisted. And it really takes a long time to get your IP's whitelisted which might be a agonizing and detrimental wait for your business. Obviously this doesn't happen in a couple of days or a week ( unless you have a very bad list ) but it accumulates over time, so it makes it even more critical that you always keep your email database clean.
Your sender reputation is a key aspect!
In the UK the average sender score is 51%.
What are Spam Traps and Honey Pots?
There are a number jargons used within the industry that you should probably have some idea about. We have have tried to list some here for your knowledge . ESPs are your Email Service Providers like Yahoo, Hotmail, Gmail.
The more a company issues an email to invalid addresses the more they will hit areas called spam traps and honey pots.
Spam Traps are previously used emails. It is essentially an email someone was in possession for sometime and then it fell out of use. Usually after a waiting period (specific to each ESP) the ESP would close it down. Gmail might might reactivate it and use it as a spam trap to be used to catch spammers who send out emails to email ID's that they shouldn't be sending to. As an obvious result, a legitimate business can get caught with their hand in the jar by sending emails to such spam traps.
Honey Pots are email addresses that have never been used, to be honest they are not even real email addresses. They are set up by ESPs deliberately to get hold of spammers and their emails. In the ideal world the Honey pot shouldn't receive a single email, but there are a number of companies that use web scrapers as well as questionable email blasting techniques to send out unsolicited emails which land in the Honey Pots too.
There are quite a few organizations that keep a track of these traps and honey pots to assemble a blacklist of organizations and domains that continuously send out emails to these traps.
Purchased Email Lists?
When it comes to email address validation, you really need to understand that sometimes less is better. By buying endless lists of emails you are also inheriting bigger problems housed in such lists. If you are involved in email list poachers, you really have to maintain a really clean and updated lists to not be picked by by the ESP's.
Well if you don't then, you either run the risk of your complete IP being blocked or all your future emails being sent to the spam folder of the recipient. This really becomes evident when you your emails are not bouncing but you are not getting any opens either ( now the open rate could be because of a bad subject line as well ). Purchasing email lists is a very risky affair, as you really haven't got the permission of the email owners to send them an email and you can't quite guarantee the quality of the lists.
Email Quality Vs. Email Quantity
Email quality is far more important than email quantity.
For different businesses this might mean different things, but ultimately it boils down to the fact that emails don't work if people are not seeing them. Antideo is a comprehensive comprehensive API to help ascertain email quality. It can be utilized in a number of different ways.
Antideo is a system to validate emails as they are being typed into the database. This can be implemented on your website or integrated to any form that you may be using. You're ensuring that the information placed in your database is clean at the point of collection, and also to reject a user if they are a known spammer.
The API checks the email address against our lists of blacklisted emails, if it is a temporary email address etc to ascertain the email address health. In that way you are able to determine if it is worthwhile to send an email to such an email address and also if an email would be delivered to that email address at all. There is a huge challenge working with a number of email service providers such as Yahoo, where they are known to have a concept that's called 'accept all';which literally means that when you call a transaction to such ESP's and ask it whether an email is valid, the answer will always be yes. Even when it's not, a bummer isn't it?
How to select a vendor?
So, when looking for an email validation API, even though cost is always a factor, go for a vendor who can clearly help you maintain a clean list of emails rather than go for a vendor who has a bloated list of features with a lot of unnecessary features.
Related Posts
In today's digital age, email has become an integral part of our personal and professional communication. However, it has also become a prime target for cybercriminals seeking to exploit vulnerabilities and gain unauthorized access to…
Introduction In today's digital landscape, businesses increasingly face challenges in verifying customer identities and ensuring secure transactions. Manual identity verification processes consume time, prone to errors, and compromise customer experience. Antideo's API integration optimizes identity…
Categories
Subscribe to Our Blog
I want the latest update in...