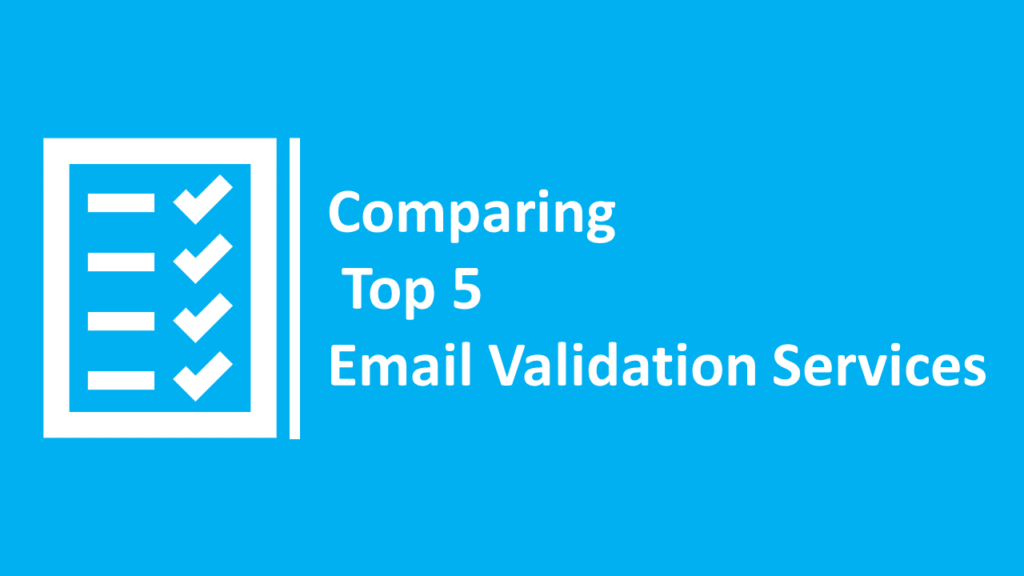 Pretty much anyone who has a website would need to validate emails that come through the different inquiry forms. Obviously, since emails are the most common contact channel requested online, it makes it critical to ensure you weed out all of the bad leads in the form of invalid emails. We have put together a comparison list of best email validation services to help your decision making process easier.
Top Email Validation Products
1. Antideo
2. DeBounce
3. ZeroBounce
4. Xverify
5. EmailChecker
There are dime a dozen email validation vendors out there but the ones mentioned above are the leaders in the space with bankable services.
Best Email Validation Service – Pricing
For a small business, cost becomes a deciding factor in selecting any product. And hence we have given you a side by side comparison of the vendors below. Obviously the different vendors have multiple delivery models but we have included the costs for a set number of validation for reference.
| | | | | | |
| --- | --- | --- | --- | --- | --- |
| Price | Antideo | Debounce | ZeroBounce | Xverify | EmailChecker |
| 5000 Validations | Free | $10 | $35 | $40 | $49 |
| Min Order | Nil | $10 | $35 | $5 | $14 |
Antideo emerges as the clear winner with respect to the cost of services, and enables even a very small business to use the email validation service without incurring a big expenditure
Email Validation Free Trial
Most of the validation services provide an option to test out the service in the form of a free trial to validate emails in very small numbers. Antideo however tops the list again with a free tier that allows over 5000 API calls a month.
What is Email Validation?
Email validation is the process of checking an email against a number of different parameters to determine if it is a valid email address. This process ensures that you accept only legit email addresses into your list.
What capabilities does the Antideo API have?
Antideo's email validation API has a number of validation features like Disposable Email check, MX records check, spam and scam email check. The team is working on adding in features like role based email check, free ESP check, syntax check etc as the article is being written. Apart from the email validation features the API's also include the capabilities as below without any additional cost.
1. IP Info and Reputation check
The API would also allow the user to pull the IP related information like location, ASN info, IP address, geo-coordinates etc that might be very useful when combined with other information or even to present additional information according to location. Antideo also stores a large database of blacklisted and scam IP's to help you weed out trouble makers very early in the process.

2. Phone Number Validation
A number of times when you make the phone number field mandatory on your form, you would end up with numbers like 555-555-5555 or 000-000-0000 or 111-111-1111 etc. Antideo's phone number validation API ensures that you can validate local as well as international phone numbers in real time.
What are the benefits of email validation?
The benefits of email validation go beyond short term benefits but really carry a number of long term benefits and helps in avoiding a lot of frustration for your team too. Some of the noted benefits for validating your emails in real time are
1. Starting with a clean list of emails
2. Mitigate wastage of time on invalid leads
3. Better ROI with a cleaner email list
4. Protect sender reputation with lower bounce rates
Antideo is a small business friendly service with a free email validation tier that would be more than enough for a small website. Antideo also give you an option to test out the API's with the Antideo demo for the API's
We hope our comparison of email validation services have helped you get a good insight into the industry leaders. We are a friendly bunch of people, feel free to drop us a message if you have any questions or would like to give us your feedback.
Related Posts
In today's digital age, individuals and businesses rely on email as an essential communication tool. However, email scams and frauds have become more prevalent. These fraudulent activities can cause significant financial damage and loss of…
Email validation is a crucial process for businesses to ensure that the email addresses they collect and use over time are accurate, valid, and reliable throughout their email marketing and branding activities. While most organisations…
Latest Post
Categories
Subscribe to Our Blog
I want the latest update in...