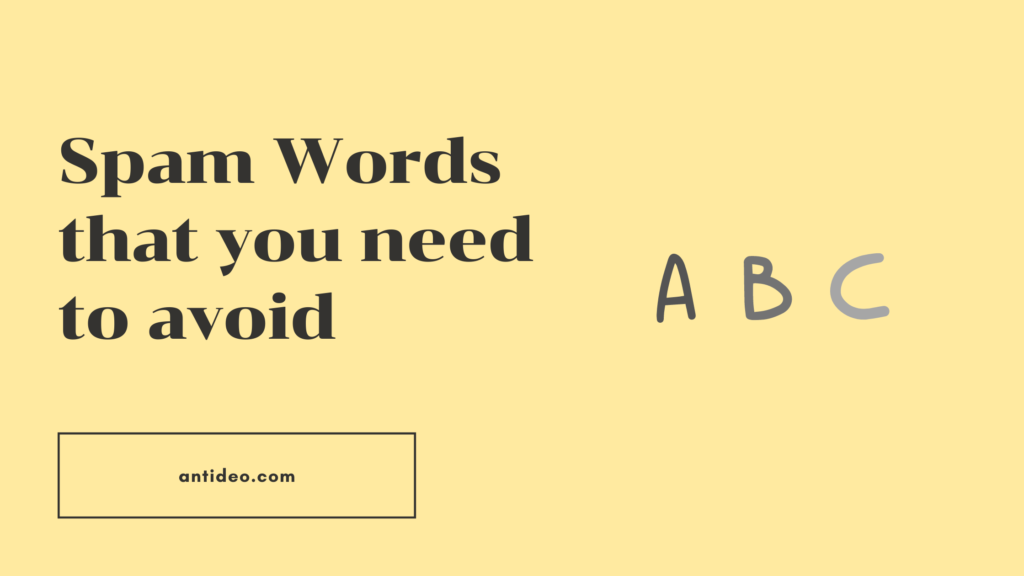 When you send an automatic e-mail, you must always be very careful that it is not considered as spam by the e-mail client (Gmail, Outlook, etc.) of the person who will receive it. In order to minimize the risk of this happening right steps are needed to be taken. The spam words can be the key to these problems. You have to avoid them properly to ensure that you get proper response to your email campaigns. But, before you take any further steps, this is the time to uncover what can be considered as a SPAM.
SPAM is the process of copying the email to a great number of email IDs. It is almost as if one is forcing the mails on the people who are in no need to receive them in anyway. these SPAM mails are sent for fake or products in question or to lure others into fake schemes.
For stopping SPAM the use of the unsubscribe button is important. It stays at the end of the very email that is sent. In case the receiver does not want to receive such mails from a particular sender, he or she can unsubscribe and opt out. So keeping your distance from spamming practices is a good idea.
Sending emails in small chunks to a great number of subscribers is a good practice to avoid being labelled as a spammer.
SPAM words to avoid in your email campaigns
While mailing, you will also have to keep in mind that the following words are not used as they are the SPAM Words:
Commerce
You have to avoid: amazing stuff, Clearance, shopper, buy direct, sale, order status, no fee, claim
Finance
You have to avoid: cash, Benefit, money, credit, money back, lowest price, best price, bargain, save up to, bonus, profit, US Dollars, get paid
Income
You have to avoid: make money, earn money, double your, expect to earn, extra income, extra cash, guarantee, insurance, million dollars, earn per week
Marketing
You have to avoid: click, ad, click below, click to remove, search engines, subscribe, mass email, don't delete, marketing solutions
Free (Free Offers it Means)
You have to avoid: free installation, free gift, free membership, free grant money, free offer, free trial, free samples
Call-to-action
You have to avoid: click here, visit our website, sign up free today, give it away, compare, see first
Numbers and Offers
You have to avoid: 100% free, #1, 100% satisfied, 50% off, being a member, thousand, give away, deal, you are a winner!, prize, month trial offer, you have been selected, $$$
Food
You have to avoid: stay in shape, lose weight, hungry etc.
Urgent Words
You have to avoid: time-limited, only today, get it now, act now, for only, urgent, order now, apply now, instant, last chance
Conclusion
The words and phrases listed above definitely need to be avoided and at the same time you need to ensure that you email content is relevant to the reader. The spam filters are becoming smarter with the advent of AI and ever learning machine algorithms, so better stick to the basics and send useful content.
It is also vital to ensure that you maintain a clean email list by using trust-able email validation tools for frequent cleansing of your contact databases
Related Posts
Email marketing may seem to have lost its sheen with a few marketers, but it is still one of the most utilized channels for customer acquisition. And this is primarily owing to the comparatively low…
Spam has become so rampant and part of life that we feel something is wrong with our website or email address if we do not get spam on a given day, it's a fact! Spam…
Latest Post
Categories
Subscribe to Our Blog
I want the latest update in...