How Disposable Emails Destroy Your Email Sender Reputation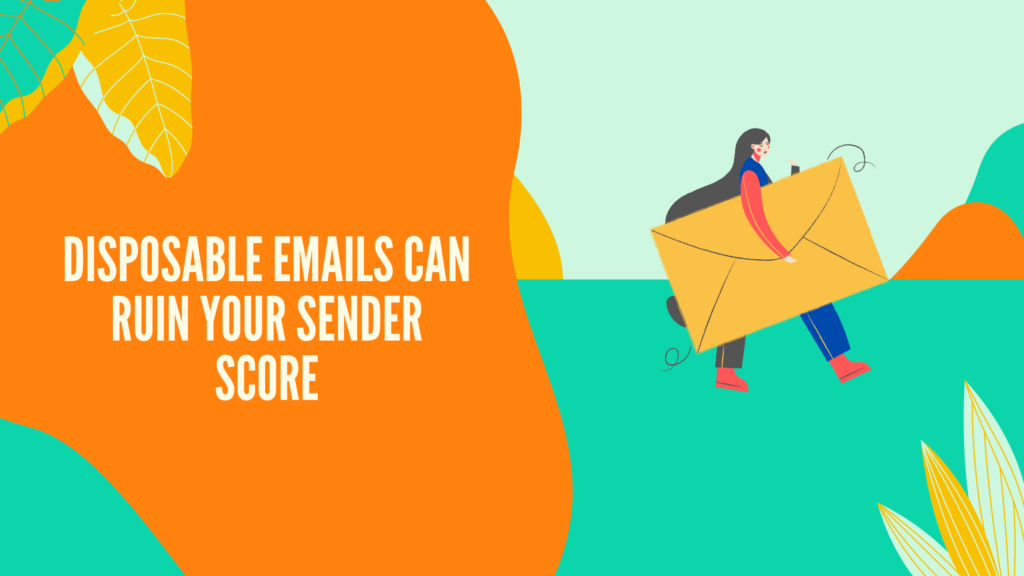 Disposable emails or temporary email addresses exist because of the volume of spam that comes in, as soon as you put your email address on a website. An email address is a basic necessity for surviving online these days. As signing up for different services and social media require email addresses and email verification to opt for. Though an email address is necessary, handing out your email address while registering for various applications makes you susceptible to spam. You can always opt to use a different email address for your online transactions and communications, but that does not ensure a spam-free experience. But spam can reach your secondary email address too. The viable solution to such problems is the use of a disposable email address.
Disposable email addresses are similar to disposable phones, or something you can call burner phones. These email addresses have a limited usage period, allowing you to use several emails simultaneously, each for different services. Using disposable email addresses will enable you to monitor your email addresses' spam vulnerability, allowing you to take reasonable steps against the spam infestation. You can delete or disable the spam infested email addresses easily.
Why use Disposable Email Addresses?
There are a few primary reasons for the use of disposable email addresses.
1. Prevent Spamming
As mentioned earlier, disposable emails are the solution for consumers to take a breather from spam attacks. Using an alias for all sign-up forms in registration processes allows you to track which email has started to receive spam emails quickly. Once detected, you can delete the email address and keep your primary email address safe from spams.
For example, let's say you are logging in to a new website that wants you to share your email address for communication. Just because you do not like to receive too many emails and notifications regarding product promotion, you can use a disposable email id to prevent spams.
2. Personal Security
Disposable emails provide an extra layer of security to your primary email address. We know that company databases are often hacked, and the data were stolen. If such an incident happens to one of the service providers you are registered to, you are at risk of becoming a victim of a cyber-attack or identity theft. A disposable email prevents the leaking of your personal identity information and reduces the chances of a data breach, protecting you from cybercrimes.
3. Software Development
Disposable email addresses were initially designed for developers as tools for testing web applications, software processes, etc. software developers are still using disposable email addresses for the same purpose. If fact, you can find a list of disposable emails on GitHub for professional uses.
4. Online Anonymity
In cases where protecting your identity and anonymity is a crucial part of the action, disposable emails come in handy. Suppose you have to send an anonymous tip to the police; you can not use your primary email address for that. Disposable emails allow you to be anonymous and maintain anonymity as long as you need it.
How can disposable emails affect email marketing campaigns?
Although an advantage for consumers, the use of temporary disposable emails is harmful to Email marketing strategies; adding them accidentally to your list can affect your email marketing campaigns and decrease lead generations. They have adverse effects like depleted senders' reputation and decreased email deliverability. Some of the severe effects of disposable emails are:
Sending campaigns to disposable emails risk the increase of email bounce rates. The more bounces, complaints, spams, and unsubscribes, the less the chance of your email reaching legitimate potential customers. Your provider can suspend your account in the worst-case scenario depending on the ISP standards, email protection services, anti-spam organizations, and spam law.
Crafting an email campaign is hard work. It requires a lot of time, effort, and money. Sending it to a disposable email address that would provide no business leads or conversions is a waste of all the efforts. Additionally, email marketing services base their pricing on the number of subscribers on the list. An infested list with disposable email addresses will burn your investments with no valued return.
Poor email Marketing Results
Sending email campaigns to risky email addresses can negatively affect your sender reputation. It would help if you remembered that these email addresses are temporary and can become inactive. This sudden inactivity is sure to affect your email deliverability and make it difficult for you to process your campaign results.
Why should we remove and avoid disposable Emails?
Email marketing should always be done to a clean email list. It would be a waste of time and effort to market to a crowd with no interest in your product. It could be foolish risking your sender reputation with no return value. A clean list offers healthy email deliverability, increases open and click rates, protects sender reputation, decreases bounce rates, and provides you with accurate statistics.
Additionally, it helps you build a relationship with the customer anonymously and engage in proper business conversions by generating more leads. But temporary emails can hide problematic spam or implant malware on your computer.
As these emails addresses are temporary and any transaction situated using these email addresses will not be stored as receipts or proof of purchase. And the content in temporary emails are also public and can be viewed by everyone.
How Email Validation Handles Disposable Email Addresses?
While you are using the email marketing strategy, it is vital to have a clean email list. This means that you must check and eliminate any threatening email addresses in your list, including disposable email addresses. An email validation tool can help you maintain a clean list and track risky emails.
The process of email validation involves three main steps.
The checking of email syntax and format. The tool looks through all the email addresses in your list and ensures the formatting of all email addresses are according to the standardized requirements used by email providers.
The emails in the list undergo domain confirmation to check the validity of the different domain names.
The mailbox verification process comes last; it uses the SMTP tool protocol to verify its email ability.
Apart from these three steps, the email validation tool has additional features to sniff out Disposable email addresses on your list. The software uses an updated disposable email list to identify disposable emails in your list, flag them, or delete them.
A few email validation tools can be utilized in real-time, while customers fill up a sign-up form. It can detect a disposable email address and stops the form from being acknowledged, keeping your list clean.
List of top disposable email address vendors
If you are trying to find a list of domains to identify disposable email addresses by sight, here is a list for you to refer from:
anonmails.de
anonymbox.com
antichef.com
antichef.net
antireg.ru
antispam.de
antispammail.de
armyspy.com
artman-conception.com
azmeil.tk
baxomale.ht.cx
beefmilk.com
bigstring.com
binkmail.com
bio-muesli.net
bobmail.info
bodhi.lawlita.com
bofthew.com
bootybay.de
boun.cr
bouncr.com
breakthru.com
brefmail.com
bsnow.net
bspamfree.org
dontreg.com
dontsendmespam.de
drdrb.net
dump-email.info
gotmail.org
gotti.otherinbox.com
great-host.in
greensloth.com
grr.la
gsrv.co.uk
guerrillamail.info
guerrillamail.net
guerrillamail.org
guerrillamailblock.com
gustr.com
inboxalias.com
inboxclean.com
inboxclean.org
infocom.zp.ua
kurzepost.de
lawlita.com
letthemeatspam.com
lhsdv.com
lifebyfood.com
link2mail.net
litedrop.com
lol.ovpn.to
lolfreak.net
lookugly.com
lortemail.dk
lr78.com
mail.zp.ua
mail1a.de
mail21.cc
mail2rss.org
mail333.com
mailbidon.com
mailbiz.biz
mailblocks.com
mailbucket.org
mailcat.biz
mailcatch.com
mailde.de
mailde.info
mailinator.net
mailinator.org
mailsiphon.com
mailtemp.info
mailtome.de
mailtothis.com
mailtrash.net
mailtv.net
mailtv.tv
politikerclub.de
poofy.org
pookmail.com
privacy.net
privatdemail.net
proxymail.eu
spamcannon.net
spamcon.org
trash-mail.com
xoxy.net
yep.it
zomg.info
Remember, this list is by no means fixed or exhaustive and are just examples of addresses that you should try and avoid. The best way to identify and avoid disposable email addresses from being on your list is to use an email validation tool.
Wrapping Up!
There is no doubt that consumers can benefit from the use of disposable email addresses. And apart from spam protection, it provides them with anonymity and security from cybercrimes. Unfortunately, from the perspective of email marketing, having a few disposable email addresses on your list can ruin your sender's reputation affecting your business outreach badly.
Related Posts
In today's digital age, individuals and businesses rely on email as an essential communication tool. However, email scams and frauds have become more prevalent. These fraudulent activities can cause significant financial damage and loss of…
Email validation is a crucial process for businesses to ensure that the email addresses they collect and use over time are accurate, valid, and reliable throughout their email marketing and branding activities. While most organisations…
Latest Post
Categories
Subscribe to Our Blog
I want the latest update in...