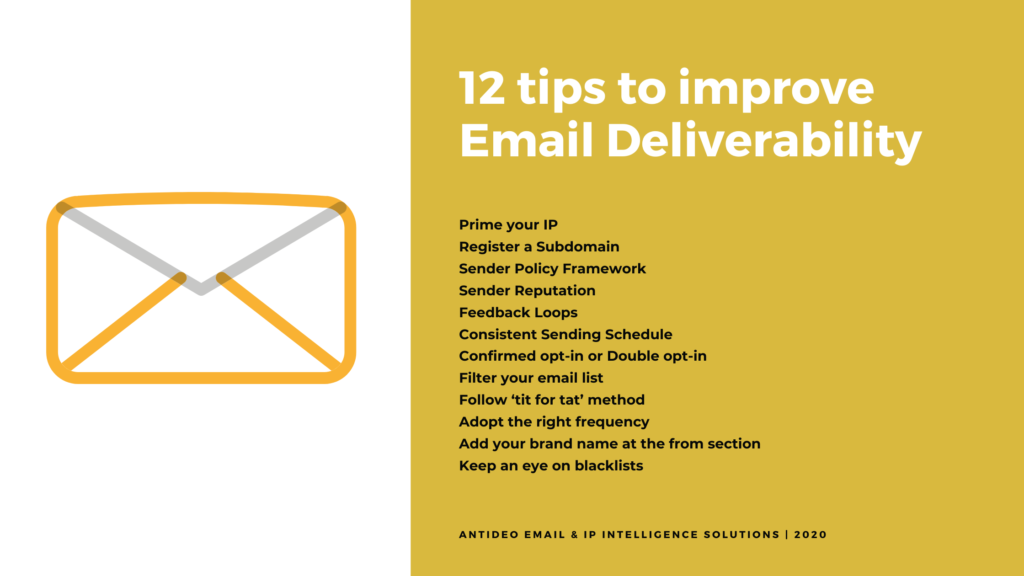 When it comes to email marketing and to improve email deliverability, protecting your sender reputation is the primary concern of every email marketer. Degrading email deliverability can affect business and cause problems in marketing strategies.
Why is email deliverability important?
Starting from increasing the conversion rate to improving user validation, email marketing is one of the pre-eminent strategies of all eCommerce businesses. In all online businesses, communication is essential. Have you ever thought, How would your customers get notified about the upcoming deals? No user visits your website daily. They come when they need you! However, in the first paced competitive world, if you do not put your foot down first, no one would come to use.
Email marketing is a great way to bring customers to your platform. The promotional plans, discounts, and customized offers can only be reached to your potential customers through emails. Though it is a convenient way, the journey to reach the targeted audience is not so easy as it sounds.
There are a lot of obstructions! You cannot just sit peacefully thinking your job is done. You will find, even if you put deliberate effort on email marketing, the result is the same. The problem might be, no email hasn't been delivered to the customer! You have to get over it anyway and have to reach the audience.
Email marketing requires regular monitoring of email deliverability and the sender's reputation degradation due to spam traps or disposable emails. If your emails are not getting delivered, email marketing is a colossal waste of time and money. Here are some of the smartest and most efficient methods to improve your email deliverability.
1. Prime your IP
When starting any email campaign, try sending these marketing emails to addresses that you know will engage. Upon clear deliverability and opening of these emails, your IP will start to build trust with the ISP filters. When you want to reach a higher market, slowly increase the number of emails until you have reached your peak volume.
2. Register a Subdomain
This method is not recommended for everybody, but it is wise to create a subdomain exclusively for email marketing purposes. With sufficient time, users will start to trust the subdomain, which is an extra benefit. However, the subdomain's real meaning is to allow domain-specific monitoring of your IP reputation and enable you to succeed against some domain-based certification filters.
3. Sender Policy Framework
A Sender Policy Framework or SPF improves your trustworthiness in the accounts of the receiving email server. The server can cross check the associated IP address against the domain name to ensure its legitimacy. Your emails do face a chance of rejection if you do not have an SPF in place.
4. Sender Reputation
The primary reason for the low deliverability of your emails in email marketing is a low sender score. ISPs automatically reject any emails that fall under a specific score. The sender score is produced by Return Path. Sender score gives a numerical denomination to every outgoing mail server. The sender is calculated by traditional email functionalities such as unsubscribes and spam reports.
The sender score is scaled between 0-100, the higher, the better. If you possess a score above 90, it is an excellent sender score. It is crucial to keep a close watch on your score. Web apps like senderscore.org make this information available for free.
5. Feedback Loops
Most ISPs offer a feedback loop that allows email senders to gain information from recipients who might have complaints about the sender's email. These are called Complaint Feedback Loops or FBLs. While Google offers users to set up a Feedback Loop Header that does not use the usual ARF format of traditional FBLs, Yahoo, AOL, and Microsoft allow easy access to this recipient's information.
6. Consistent Sending Schedule
Random and unpredictable broadcasting activities is one of the reasons for a lower sender score and IP rejection. Not maintaining regularity of email marketing schedule creates a sending activity spike, bringing ISP filters to suspect you. Try to stick to a consistent email sending schedule to avoid such situations.
7. Confirmed opt-in or Double opt-in
The most popular opt-in is the single opt-in; this is where a user agrees to receive an email by checking a box or leaving the pre-checked box checked. This might seem an easy way to gather email addresses as it is automatic; however, it can turn into a crashing disaster by generating high numbers of spam complaints. On accumulating spam complaints, the ISP filters start to block the sending server for as few as two or three spam complaints per thousand emails.
The primary way to avoid spam complaints is to use a double opt-in email list. Double opt-in requires you to send a confirmation or verification mail to every recipient or subscriber to validate their address and earn their consent.
8. Filter your email list
There is no point in sending emails to non-existent users. Instead of piling up your list, purge it. If you continue to send to non-existent users, you will end up with the bounce rate sky rocketing. It will also affect your sender credibility. Try spending time to remove the inactive users for the list. In addition, deciphering your email conversion rate will become feasible. You can also go for a paid service to clean up all hard bounces before you frame a new email marketing strategy. With an email validation service, you will be able to remove common user errors like duplicate and outdated domains, typos, invalid email addresses.
9. Follow 'tit for tat' method
Some customers are cunning like your business advisor. They are quite experienced with marketing strategies. In order to take its advantages, they create multiple email id because it comes free. You have to take care of your email list if your customer does not. This propensity usually takes place when you introduce any contest; some customers are literally ready to do anything to grab the reward.
Now, the contest is over, do not make a fool of yourself by sending marketing emails to all those emails. It will surely hamper your bounce rate. These emails are not to be put on the subscriber list but to dump in bins.
10.Adopt the right frequency
It would be best if you were organized in matters of business, no matter how personally organized you are. You need to follow a particular sequence while sending mails. On the other hand, a subtle frequency is needed. Let's face it; the users would not invest all their time to check your mails, especially if you mail them regularly, they might feel annoyed. Sending the right numbers of emails, hint your customers about a reputed brand.
A good benchmark of one email per week is likely the best method to grab their attention. Make sure to adjust the time-frequency thoroughly, or you will end up with nothing.
11. Add your brand name in the 'from' section
It's a good way both for branding and reaching your customer without much hustle. When users recognize the brand name, they tend to show interest in opening the email. Subsequently, your brand name gets attention, and the users feel secure from spam. This is an ideal way to deal with your bounce rate. With its increasing trend, many industries are taking the help of paid employees to operate the entire function.
12. Keep an eye on blacklists
Though the name suggests no importance, its usability may differ from your conviction and it is imperative that you track your IP reputation. The reality is way different. With the growing marketing trends, professionals are evolving their methods consistently. Business owners can possibly do anything to grab the users' eyes. You have already asked to filter your email list; however, you may have to look back there while experiencing send problems.
Blacklists are created to protect your users from spamming IPs. Take a look at those IP addresses using tools like MXToolbox. This tool also offers a free monitoring service.
Final Take
The only way email marketing can be useful is when the emails are delivered. If you pass that step correctly, you earn the freedom to create all sorts of creative content and killer subject lines for your emails. There are email marketers that send over a thousand emails every day. That is a lot of emails, and just like it seems, it is risky. But with the right tools and proper methodology, you can easily use a massive email list and increase revenue and engagement of clients.
Related Posts
Email marketing may seem to have lost its sheen with a few marketers, but it is still one of the most utilized channels for customer acquisition. And this is primarily owing to the comparatively low…
Spam has become so rampant and part of life that we feel something is wrong with our website or email address if we do not get spam on a given day, it's a fact! Spam…
Latest Post
Categories
Subscribe to Our Blog
I want the latest update in...