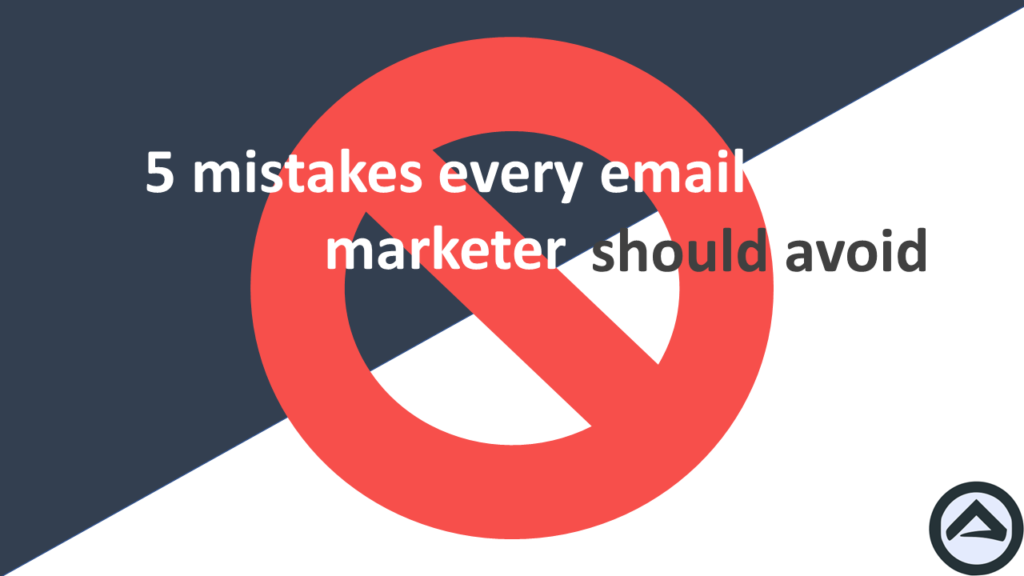 To be honest there is no 'one size fits all' email marketing strategy that you can get up and running for your business. Yes, there are a few basic concepts and rules that prove to be a guideline for arriving at a successful strategy. But 99% of the times it's about trying out multiple concepts and strategies to finally figure out what works for your business.
But as a thumb rule your email got to have content the reader appreciates, be visually appealing and have a clear call to action. Missing any of these components would be a critical mistake that would end up in wasting your time or the campaign being a complete failure.
Apart from these 3 core aspects there are 5 other mistakes that you as an email marketer should avoid at any cost
5 mistakes an email marketer should never make
Personalization
Being inundated with several emails every hour, no-one wants to receive a general email blast. Recipients will love to read your email if it addresses a specific pain point or is personalized, as a human nature we value individualized attention. Obviously real personalization is not easy to achieve, there needs to be a good amount of time and effort spent to understand the preferences as well as needs of a user. Personalization happens over a span of time and is not something that you can achieve by simply addressing the email by name to the recipient.
Personalization is touted as the email marketing trend that is garnering a lot attention and effort from marketers since the last few years. Several tools out there employ AI and ML now to better understand behavior patterns and user trends, that prove handy in rolling out highly personalized campaigns
Email Hygiene
Having a good email list is paramount and is the foundation for any campaign to create good ROI. There cannot be more emphasis laid on having an email database that is double opt-in and free of invalid email address. This reiterates the need to build out your own database consisting of opt-in prospects that you can market to in the long term. Hence it makes it vital to validate emails in real time as a prospect fills up your form
Not doing A/B testing
You would be very lucky if you get your first campaign to work out, it takes a good amount of testing before you uncover what works for you. It is a good practice to split your database and test out multiple versions of your campaign, making changes to the design as well as positioning content. Email marketing is a science as much as it is an art, you would be able to taste success if you identify and follow the patterns of the user behavior and keep iterating your campaigns.
Overselling
If the messaging within your email is 'We have a product, would like to buy it?, the campaign is destined to fail. Over the years email marketing content has changed from being transactional to being more relationship focused. No need to mention the importance of a good copy invested in building a relationship with the recipient than a quick sale. In short when drafting the copy for email campaigns, the focus has to be on the value for the recipient and not selling the features.
Breaking Design
It isn't funny for a user if the design of your email comes up funny. The competition for attention is too high and you get mere seconds to interest your reader in your content, a broken design is game over. There are several emulators and services out there that help you render your email design and layout on different screens etc. It is more than likely that your email will be opened on a smartphone considering the shift of users from desktops to mobile devices, . This makes it critical to test out your email layout and copy for multiple screens, browsers, operating systems etc.
To cover the basics, starting with a good organically generated email list is essential and a good email validation API can help you validate emails as someone enters your online form. Feel free to hit us with any other critical mistakes that you think should be a part of the list and we would be more than happy to explore it.
Related Posts
In today's digital age, email has become an integral part of our personal and professional communication. However, it has also become a prime target for cybercriminals seeking to exploit vulnerabilities and gain unauthorized access to…
Email marketing may seem to have lost its sheen with a few marketers, but it is still one of the most utilized channels for customer acquisition. And this is primarily owing to the comparatively low…
Categories
Subscribe to Our Blog
I want the latest update in...