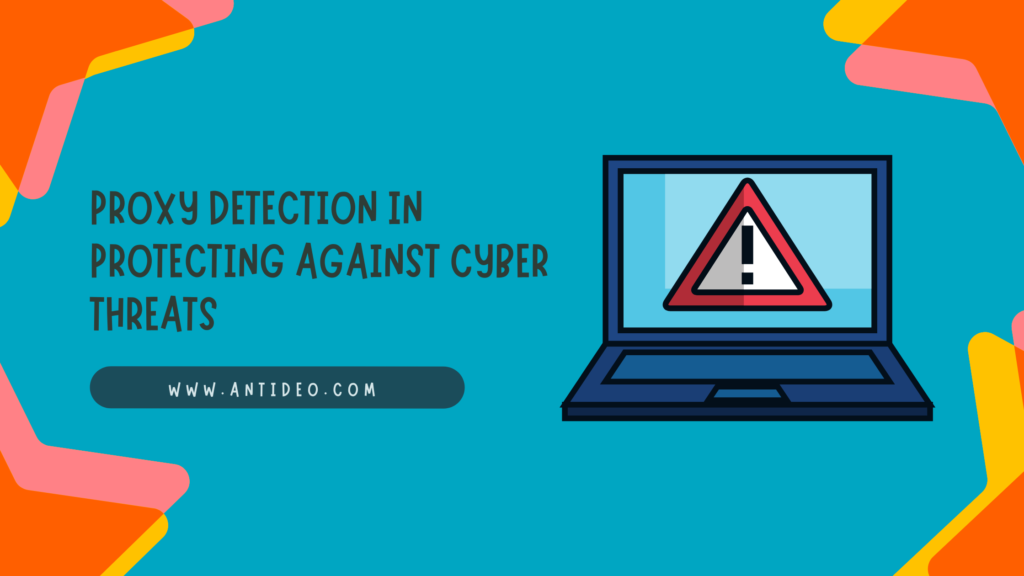 In today's interconnected world, businesses face constant concerns about cyber threats. Cybercriminals employ various tactics to conceal their identity and location, making it increasingly challenging to track and prevent attacks. Proxy detection has emerged as a crucial tool in the fight against cyber threats. By identifying and analysing the use of proxies, businesses can enhance their security measures and protect against malicious activities. In this blog post, we will delve into the impact of proxy detection in safeguarding against cyber threats and explore how businesses can leverage this technology to fortify their defense mechanisms.
Understanding Proxies and Their Role in Cyber Attacks: Proxies serve as intermediaries between users and the internet, allowing them to mask their true IP address and location. Cybercriminals often exploit proxies to conceal their identities and carry out attacks such as hacking, fraud, or data breaches. Understanding the various types of proxies and their role in cyber attacks is crucial in combating these threats effectively.
Proxy servers act as a buffer between users and the online world. When a user sends a request through a proxy server, the server forwards the request to the desired destination on their behalf. The recipient sees the proxy server's IP address instead of the user's actual IP address, making it difficult to trace the origin of the request. This anonymity provides cybercriminals with a shield to carry out malicious activities.
Proxy Detection Techniques and Tools: Detecting the use of proxies is essential for identifying potential threats and taking appropriate measures. Businesses can employ various proxy detection techniques and utilise specialised tools to uncover proxy usage. These techniques may include analysing IP addresses, monitoring network behaviour, or employing machine learning algorithms to identify suspicious patterns.
IP address analysis is a common method used for proxy detection. By examining the characteristics of IP addresses, such as their reputation or association with known proxies, businesses can identify potential proxy usage. Additionally, monitoring network behaviour can help detect anomalies and patterns consistent with proxy usage. This includes monitoring for excessive connection requests or unusual browsing patterns.
Machine learning algorithms can also play a significant role in proxy detection. By training algorithms on large datasets that include proxy-related patterns, businesses can create models capable of identifying proxies automatically. These models can analyse various data points, such as IP addresses, headers, or network traffic, to flag suspicious activities.
Preventing Unauthorized Access and Data Breaches: Proxies are often used as gateways to gain unauthorized access to systems or networks. By detecting and blocking proxy usage, businesses can significantly reduce the risk of unauthorized access attempts and data breaches. Proactive proxy detection can thwart potential cyber attacks and safeguard sensitive information.
When cybercriminals attempt to breach a network, they may use proxies to hide their true intentions. By detecting and blocking proxy traffic, businesses can prevent unauthorised access attempts from reaching their systems. This acts as a deterrent, forcing attackers to rethink their strategy or move on to less protected targets.
Furthermore, by implementing robust authentication and access control mechanisms, businesses can add an extra layer of security to their networks. Combining these measures with proxy detection ensures that only legitimate requests are granted access, minimising the risk of data breaches.
Protecting Online Reputation and User Experience: Cyber threats not only compromise data security but also damage an organization's online reputation. Proxy detection plays a vital role in preserving online reputation and ensuring a positive user experience. By detecting and blocking malicious proxy traffic, businesses can maintain a safe and trusted online environment for their users, building trust and loyalty.
Online reputation is paramount for businesses that rely on their digital presence. Malicious activities originating from proxies, such as spamming or launching distributed denial-of-service (DDoS) attacks, can tarnish an organisation's reputation. By actively detecting and blocking such activities, businesses can protect their
Conclusion
Proxy detection is a critical component of a comprehensive cybersecurity strategy. By identifying and analysing proxies, businesses can enhance their ability to protect against cyber threats. Detecting proxies aids in preventing unauthorised access, data breaches, and maintaining a positive online reputation. It also enables compliance with regulatory requirements and enhances overall security posture. By staying vigilant and implementing robust proxy detection techniques and tools, businesses can proactively defend against evolving cyber threats. Investing in proxy detection measures strengthens security and safeguards valuable assets.
Related Posts
With the rise of online transactions and shopping, online fraud has become a significant headache for businesses and shoppers alike. One way to defend against fraud is using geolocation data, data that identifies the location…
In today's digital world, online businesses rely heavily on connectivity, so maintaining a good online reputation is a very important factor. One aspect that plays a significant role in this regard is the IP reputation….
Latest Post
Categories
Subscribe to Our Blog
I want the latest update in...